Catalogs

>

Uhlmann

>

BLU 400 Liquid Packaging Machine
Catalog excerpts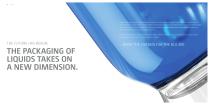 Anyone wishing to achieve top performance must focus passionately on a goal. True to this maxim, Uhlmann has concentrated for over 65 years on highly efficient packaging systems for the pharmaceutical industry – and that alone. Not only does an Uhlmann embody outstanding technology, but also amalgamated knowledge of the needs and market requirements of the pharmaceutical sector. Committed to this philosophy, Uhlmann undertook to redefine standards in the packaging of liquid dose products. Trendsetting in every respect. Exceptional in every detail. THE PACKAGING OF LIQUIDS TAKES ON A NEW...
Open the catalog to page 2

BLU 400. UNCOMPROMISINGLY GEARED TO LIQUID DOSE PRODUCTS. UNSURPASSED FLEXIBILITY. EXCEPTIONALLY GENTLE PRODUCT HANDLING. REMARKABLE EFFICIENCY. Blister machine BLU 400 and cartoner C 2305 Ampoules, syringes, vials, bottles, cartridges, or pens: the BLU 400 is tailored to the needs of the pharmaceutical market when it comes to the packaging of liquid dose products. Based on a detailed and well-conceived concept, it convincingly ensures safe and gentle product handling throughout the entire packaging process. With unrivaled safety functions that protect even the most susceptible products at...
Open the catalog to page 3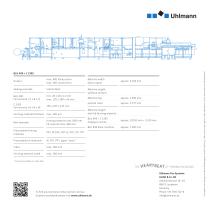 Machine width (doors open) Sealing principle Machine height (without printer) Forming material thickness Reel diameter forming material max. 800 mm lid material max. 400 mm opened cover Machine length with lid forming material Forming material width BLU 400 basic machine Processable forming materials * Function available at a later date Uhlmann Pac-Systeme GmbH & Co. KG Uhlmannstrasse 14 – 18 88471 Laupheim Germany To find your personal contact person and our locations worldwide please visit www.uhlmann.de Conception and design: weiskind Werbeagentur GmbH | 06/2015 | We reserve the right to...
Open the catalog to page 4
All Uhlmann catalogs and technical brochures
Compare up to 10 products