Catalogs

>

Resuscitation Unit - V-1000
Catalog excerpts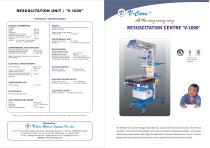 RESUSCITATION UNIT : "V-1000" TECHNICAL SPECIFICATIONS PHYSICAL PARAMETERS : Mattress : 780 mm Length : 490 mm Width : 50 mm Thickness : 920 mm Working level from ground o Maximum baby tray tilt on : +/-8 both sides continuously variable : 130 kg Weight Castors : 100 mm with 2 brake wheels and 2 non - brake wheels Single element CE approved ceramic heater placed in a parabolic reflector. Heater output control range in manual mode : 0 to 100 % PHOTOTHERAPY UNIT : Supply to each tamp Irradiance Operating temperature range Storage temperature range Operating Humidity range Airway ventilation outlet Oxygen flow rate control Breathing rate control Maximum airway pressure Adjustable airway pressuer Air pressure airway gauge Note : Best results obtained in low convective environmental : 0 to 6 liter/min : Manual : 40 cm water column : 10 - 35 mm water column : 0-60 cm water column ELECTRICAL SPECIFICATIONS : Electrical Supply SUCTION CONTROL : Power consumption with Heater at max. output Power consumption with Heater, Photo therapy and observation lamp ON Maximum suction Vacuum gauge range AUXILIARY OXYGEN OUTLET : Oxygen flow control Maximum airway pressure OBSERVATION LIGHT : Power required : 1 - 15 liter/minute : 55 cm water column ELECTRICAL SAFETY : Micro computerized system SKIN TEMPERATURE PROBE : Range Accuracy Resolution Probe interchangeability : 28 C to 38 C o : +/-0.2 C within range o : 0.1 C o : +/- 0.2 C (Servo) NOTE : DUE TO OUR CONTINUOUS R&D PROGRAM THE SPECIFICATIONS AND DESIGN MAY CHANGE WITHOUT PRIOR NOTICE. V V-Care Medical Systems Pvt Ltd, # 30 / 2, S.V.Complex, Magadi Main Road, Vijayanagar, Bangalore - 560 040. KARNATAKA, INDIA Ph:+91-80-2311 0651 / 52, Fax:+91-80-2311 0645 Mobile: +91-98440 78793 E-mail: sales@vcaremed.com, info@vcaremed.com, vcare@satyam.net.in Website: www.vcaremed.com We believe that a warmer design should take into account both the science and art of the thermal regulation. To provide the most efficient use of heat we select the appropriate wattage, use the best material for heating element and design the reflectors for maximum effectiveness. The art involves designing the unit for optimum functionality. It is an equation we have worked hard to perfect.
Open the catalog to page 1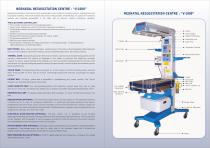 NEONATAL RESUSCITATION CENTRE : "V-1000" NEONATAL RESUSCITATION CENTRE : "V-1000" Neonatal resuscitation units are commonly used as open care incubator in the delivery rooms, Intensive care units & operation theaters. They must combine heat control, Resuscitation, Phototherapy unit, space for monitoring systems and complete accessibility to the infant with an optimum medical procedural capability. THE ELECTRONIC CONTROLLER : ! The controller is based on micro computerized system. ! Large bright displays are easy to monitor & for viewing from a distance. ! Double digital display system...
Open the catalog to page 2
All V-Care Medical Systems catalogs and technical brochures

Archived catalogs

Compare up to 10 products