Catalogs

>

Vaica

>

SimpleMed Suit
Catalog excerpts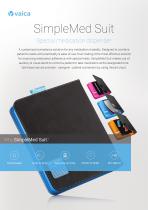 SimpleMed Suit Special medication dispenser A customized compliance solution for any medication modality. Designed to combine patient's needs with practicality & ease of use; thus making it the most effective solution for improving medication adherence with special meds. SimpleMed Suit makes use of auditory & visual alerts to remind a patient to take medication at the designated time. Optimizes service provider - caregiver - patient connection by using Vaica's cloud.
Open the catalog to page 1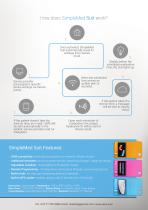 How does SimpleMed Suit work9 Once activated, SimpleMed Suit automatically reads its settings from Vaica's scheduled medication Service provider pre-programs specific device settings via Vaica's will be sent to Vaica's If the patient doesn't take the med on time, an e-mail / SMS will patient, service providers and /or Upon each extraction of medication ID will be sent to Vaica's cloud. SimpleMed Suit Features: I, • GSM connectivity cloud services based on an internal cellular modem H_ • Additional reminders can be programmed (ex: check blood sugar / apply eye drops) *— • Adjustable schedule...
Open the catalog to page 2
All Vaica catalogs and technical brochures
Compare up to 10 products