Catalogs

>

Vaica

>

SimpleMed+
Catalog excerpts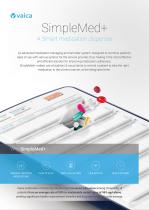 A Smart medication dispenser An advanced medication managing and reminder system. Designed to combine patient's ease of use with various options for the service provider; thus making it the most effective and efficient solution for improving medication adherence. SimpleMed+ makes use of auditory & visual alerts to remind a patient to take the right medication in the correct manner, at the designated time. vNAGE MULTIPLE PLUG 'NJ PLAY DATA COLLECTION LIFE BUTTON Vaica medication monitoring solution has increased adherence among chronically ill patients from an average rate of 50% to sustainable record rates of 96% and above, yielding significant health improvement benefits and long term me«flk:osts savings.
Open the catalog to page 1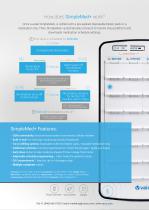 How does SimpleMed+ work? Once a week SimpleMed+ is refilled with a pre-packed disposable blister pack or a medication tray; Then, SimpleMed+ automatically connects to Vaica's cloud platform and downloads medication schedule settings. (J) First dose is scheduled for 8:00 AM Compartment Illuminates Meds taken alarm goes off in intervals of 5 & alarm stops Meds taken Meds NOT taken Illumination remains minutes, alarm stops. "Pill was not taken" is saved SimpleMed+ Features: EARLY DOSE BEDTIME EVENING GSM connectivity cloud services based on an internal cellular modem Built-in hub* for vital...
Open the catalog to page 2
All Vaica catalogs and technical brochures
Compare up to 10 products