Catalogs

>

360 ONCOLOGY
Catalog excerpts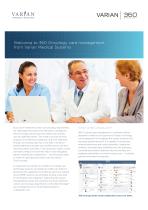 Welcome to 360 Oncology care management from Varian Medical Systems Busy cancer treatment centers and oncology departments are challenged every day by the demand to manage the entire oncology care process and interact with primary care and specialist teams. They need to provide services ranging from screening to diagnosis, and from treatment through survivorship planning. In the shift to evidencebased healthcare, providers must deliver cancer care that improves patient outcomes. To be successful, today's cancer care teams need an environment that is more integrated, patient-centered and collaborative — one that allows them to make the right decisions faster than ever before. That's not easy. WHAT IS 360 ONCOLOGY? 360 Oncology care management is a software solution designed to meet the full spectrum of needs in oncology care management for hospitals and cancer centers at the oncology department level. It is capable of connecting referring physicians and cancer specialists; integrating evidence, outcomes data, guidelines and care pathways; coordinating multiple treatment sites and settings; and engaging stakeholders involved in cancer care — including patients and external caregivers. In a specialist care system as complex as oncology, new technology solutions are needed to enable care teams to go beyond the capabilities of enterprise electronic medical record (EMR) systems and ultimately achieve a new level of coordination and integration. Supporting the unique interoperability needs and workflows of cancer treatment centers and oncology departments is what 360 Oncology™ care management, from Varian Medical Systems, is designed to do. 360 Oncology allows instant collaboration across your
Open the catalog to page 1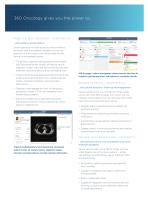 360 Oncology gives you the power to... MAKE THE BEST DECISIONS — CONFIDENTLY …with evidence-based support Cancer specialists will have access to clinical evidence, outcomes data, and treatment guidelines across the spectrum of tumor types, from multiple data sources, through one integrated system. • The ability to organize multidisciplinary tumor boards that incorporate patient records, all relevant reports, diagnostic images, team attendance tracking, and team treatment recommendation and record-keeping tools • Clinical and operational dashboards that provide clinical evidence and outcomes...
Open the catalog to page 2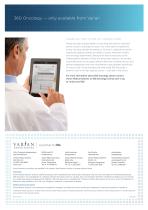 ENABLING THE FUTURE OF CANCER CARE Varian has been a global leader in launching software for individual points of care in oncology for years. Our many years of experience across oncology disciplines enables us to launch a dedicated solution specifically geared towards the needs of cancer treatment centers and oncology departments. Because we have a long history with interoperability between Varian and third-party systems, we are able to provide access to oncology relevant data from multiple sources, and patient engagement and care coordination tools designed specifically for cancer care....
Open the catalog to page 3
All Varian Oncology catalogs and technical brochures

Compare up to 10 products