Catalogs

>

ProBeam 360
Catalog excerpts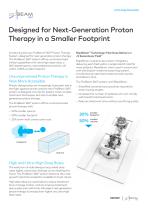 Ultra-High Dose Rate Designed for Next-Generation Proton Therapy in a Smaller Footprint 30% 50% Introducing the new ProBeam® 360° Proton Therapy System, designed for next-generation proton therapy. The ProBeam 360° system offers uncompromised clinical capabilities with ultra-high dose rates, a 360-degree gantry, and exceptional precision, all within a 30% smaller footprint. Uncompromised Proton Therapy is Now More Accessible Proton therapy plays an increasingly important role in the fight against cancer, and the new ProBeam 360° system is designed not only for today's most complex treatment techniques, but also to enable next-generation proton therapy. The ProBeam 360° system offers uncompromised proton therapy with: • 50% smaller volume • 30% smaller footprint • 25% lower vault construction cost RapidScan™ Technology: Fast Dose Delivery in <5 Seconds per Field1 RapidScan revolutionizes motion mitigation, delivering each field within a single breath-hold for most patients. RapidScan, when used in conjunction with the Eclipse™ treatment planning system, simultaneously optimizes treatment plan quality and delivery time. The ProBeam 360° system with RapidScan: • Simplifies conventional procedures required to treat moving targets • Increases the number of patients who can comply with breath-hold treatments • Reduces treatment time without sacrificing quality smaller footprint smaller volume High and Ultra-High Dose Rates The evolution of radiotherapy has pushed dose rates higher, and proton therapy is now leading this trend. The ProBeam 360° system features the most powerful particle accelerator available to treat cancer. High dose rates are used today to reduce treatment time, manage motion, and can improve treatment plan quality and conformity. We expect next-generation proton therapy to employ even higher and ultra-high dose rates.
Open the catalog to page 1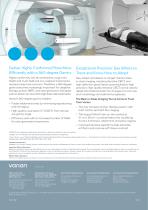 Deliver Highly Conformal Plans More Efficiently with a 360-degree Gantry Exceptional Precision: See Where to Treat and Know How to Adapt Higher conformity can be achieved by using more fields2 and multi-field and non-coplanar treatments are becoming more common. Therefore, a 360-degree gantry becomes increasingly important for adaptive therapy, proton SBRT, and next-generation therapies such as proton arc and ultra-high dose rate treatments. See, adapt, and deliver on-target: Varian's bestin-class imaging, including Iterative CBCT, and high-definition pencil beam scanning lead to high...
Open the catalog to page 2
All Varian Oncology catalogs and technical brochures

Compare up to 10 products