Catalogs

>

Vitesse 3.0
Catalog excerpts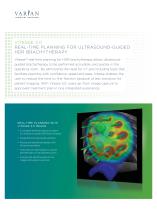 VITESSE 3.0 REAL-TIME PLANNING FOR ULTRASOUND-GUIDED HDR BRACHYTHERAPY Vitesse™ real-time planning for HDR brachytherapy allows ultrasoundguided brachytherapy to be performed accurately and quickly in the operating room. By eliminating the need for CT and including tools that facilitate planning with confidence, speed and ease, Vitesse enables the user to reduce the time to first fraction because of less transition for patient imaging. With Vitesse 3.0, users go from image capture to approved treatment plan in one integrated experience. REAL-TIME PLANNING WITH VITESSE 3.0 MEANS • A complete treatment planning system for ultrasound-guided HDR brachytherapy • Straightforward structured workflow • Placing and identifying needles with ultrasound guidance • Using Volume Optimization to quickly generate plans in the operating room • Viewing and adjusting dose on live images with easy-to-use tools
Open the catalog to page 1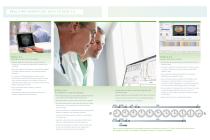 REAL-TIME WORKFLOW WITH VITESSE 3.0 STEPS 1 & 2 IMAGING AND CONTOURING STEPS 5 & 6 ANALYZE AND TREAT • Transfer digital ultrasound video via direct Ethernet connection* for improved image quality, reliability, and workflow. • Define dosimetric quality alerts and interactively alter the treatment plan. • Use sector analysis to divide the target into sectors using a variety of patterns and calculate user-specified DQP values for each. • Automatic capture of transverse or longitudinal images** for speed, superior resolution, and reduced prostate distortion. • View graphical or tabular...
Open the catalog to page 2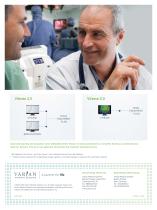 Advanced planning and evaluation tools embedded within Vitesse 3.0 allow practitioners to smoothly develop an optimized plan ready for delivery. This all-in-one approach streamlines the treatment planning process. * BK Medical's Pro Focus"" and Flex Focus"", with sufficient license from BK Medical " Twister license required for longitudinal image capture. A tracked stepper is required for automatic capture. medical systems ©2010, 2012 Varian Medical Systems, Inc. All rights reserved. Varian and Varian Medical Systems are registered trademarks, and BrachyVision and Vitesse are trademarks of...
Open the catalog to page 3
All Varian Oncology catalogs and technical brochures

Compare up to 10 products