Catalogs

>

Flex 5 & 6
Catalog excerpts
PURELAB ANALYTICAL RESEARCH A unique automated solution for Ion Chromatography. Switch on and walk away, Ion Chromatography made easy. A standalone Ion Chromatography and water purification system all-in-one. The PURELAB flex 5 & 6 is designed to couple directly with the Metrohm 941 Eluent Production Module. This combination delivers complete automation. No need to monitor eluent concentration make-up, no need to refill or to set reminders to refill the water. • Integral built-in reservoir for pressureless ultrapure water supply Combinable for any existing IC Setups - developed for Metrohm Dosino technology • Closed system avoids eluent contamination due to water handling and exposure • Monitor water purity via USB datalog ensuring analytical performance during test batch • Prevent column clogging and increases column life: UV (185/254 nm) ensures bacteria and organics control • Stable retention times: no dissolved CO2 in water prevents pH change • Enhanced detection limits through improved stability and purity • Simultaneous multi-usage: eluent generation, system rinsing and general laboratory work • 881/882 Compact IC • 850 Professional IC • 930 Compact IC Flex • 940 Professional IC Vario • Reduces eluent preparation to minimum compared to using bottled water This unique Ion Chromatography solution is produced by two of the world's leading manufacturers: Metrohm, market leader titration and voltammetry and a leading manufacturer for Ion Chromotography and ELGA®, market leader in innovation and design for laboratory water instruments.
Open the catalog to page 1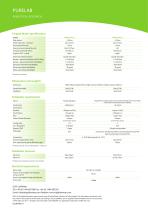 Daily volume Delivery flow rate - maximum Recirculation flow rate Reverse osmosis make up flow rate Inorganics (resistivity @25°C) Organics (TOC) - typical Direct from internal reservoir Bacteria - typical (when fitted with POU Filter) Bacteria - typical (when fitted with Biofilter) Endotoxin (when fitted with Biofilter) DNase (when fitted with Biofilter) RNase (when fitted with Biofilter) <10 liters Up to 2 l/min 1 l/min Up to 10 l/hour 18.2 MQ-cm <5ppb' Type III / RO water <1 CFU/10ml <1 CFU/10ml <0.001 EU/ml <20 pg/ml <0.002 ng/ml >10 liters Up to 2 l/min 1 l/min N/A 18.2 MQ-cm <5ppb 1...
Open the catalog to page 2
All VEOLIA WATER STI catalogs and technical brochures
Compare up to 10 products