Catalogs

>

3 IN 1 Portable ultrasound scanner
Catalog excerpts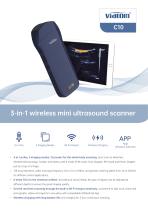 3-in-1 wireless mini ultrasound scanner Wi-Fi Hotspot Wireless Charging 3-in-1 probe, 5 imaging modes, 12 presets for the whole body scanning. Scan such as Abdomen, Obstetrics/Gynecology, Cardiac and Kidney with B mode, B+M mode, Color Doppler, PW mode and Power Doppler just by a tap of a finger. 128 array elements, wider scanning frequency from 2.5 to 10 MHz, and greater scanning depth from 20 to 305mm for different clinical applications. 8 times TGC for the minimum artifact. According to actual needs, the gain of signals can be adjusted at different depths to ensure the good imaging quality. Get the real-time scanning through the built-in Wi-Fi hotspot wirelessly, convenient to edit, save, share and print graphs, videos and reports in one place with compatiable iOS/Android App. Wireless charging with long battery life, one charging for 3-hour continuous scanning.
Open the catalog to page 1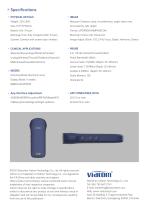 Specifications PHYSICAL DETAILS Measure: Distance, area, circumference, angle, heart rate, Battery Life: 3 hours Recharge Time: fully charged within 3 hours Maximum frame rate: 31/second Scanner Connect with screen type: wireless Image Adjust: BGain, TGC, DYN, Focus, Depth, Harmonic, Denios CLINICAL APPLICATIONS Urology/Kindney/Thyroid/ Pediatrics/Vascular/ Convex head: 3.5/5Mhz (Depth: 90~305mm) Linear head: 7.5/10Mhz (Depth: 20~80mm) Scanning Mode: Electronic array Display Mode: 5 modes: B\BM\Color\PDI\PW App Interface Adjustment C/Biopsy/Annote/Page left/right up/down ©2021 Shenzhen...
Open the catalog to page 2
All Viatom by Lepu catalogs and technical brochures

Compare up to 10 products