Catalogs

>

TH12- 12 lead recorder holter
Catalog excerpts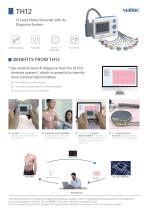 TH12 12-Lead Holter Recorder with AI Diagnose System Compact Desgin BENEFITS FROM TH12 Get medical-level AI diagnose from the AI ECG Analysis system*, which is powerful to identify most common abnormalities -Few workload on graph reading. -Fast to get diagnose report by artificial intelligent -Summary for various ECG indicators 4 steps to record and get analysis, easy operating from start to stop Compact and wearable, comfortable to do the true 12-lead Holter recording One-press to memory abnormalities. Press the button on the monitor to mark the event, never forget the heart issue. With pacing check function, pacing sampling rate up to 10,000 points/sec Holter Records Diagnose Report AI-ECG SERVER *AI-ECG plateform is an artificial intelligent ECG analysis system, which is generated and developed by Lepu Medical. It has been approved by FDA, CE and NMPA. At present. (Source from Lepu AI Lab) For more detail about AI-ECG, please visit https://www.viatomtech.com/ecg-solution-for-service-providers
Open the catalog to page 1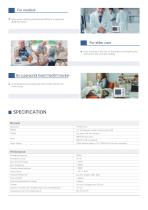 For medical Save graph reading workload and efficient to generate diagnose report For elder care Early warning of the risks of the elderly, and significantly reduce the cost of graph reading As a personal heart health tracker A comprehensive professional heart health solution for home using SPECIFICATION Physical Dimension 1.4" 128*64pixals Liquid crystal screen (LCD) 62g (main unit with battery) Ports Power Supply HDMI (for lead wire) USB (for USB connecting) 1*AAA alkaline battery (1.5V 700mAh) for 24 hours recording Performance Sampling Frequency Sampling Accuracy Input Dynamic Range Input...
Open the catalog to page 2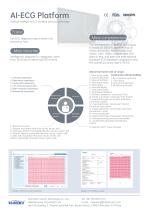 AI-ECG Platform Artificial intelligence ECG assisted analysis technology Faster More comprehensive Get ECG diagnose report within one second as fast. The development of AI-ECG technology is based on 300,000 patients and 50 million accurately labeled data fragments. Use 1 million independent test data to test, and pass the international standard ECG database comparison test, the overall accuracy rate is 95.2% More accurate Intelligently diagnose 16 categories, more than 104 kinds of abnormal ECG events. Abnormal heart rate of origin 1. Sinus tachycardia Conduction abnormalities 1. Left atrial...
Open the catalog to page 3
All Viatom by Lepu catalogs and technical brochures

Compare up to 10 products