Catalogs

>

Wifi blood pressure monitor with ECG -BP2 Connect
Catalog excerpts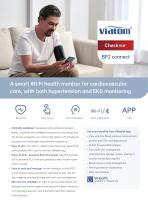 A smart Wi-Fi health monitor for cardiovascular care, with both hypertension and EKG monitoring Clinically validated. Developed with professinal medical teams, combined with intelligent compression technology and Wi-Fi & Bluetooth Get more benefits from ViHealth App: the all-new designed Lycra cotton high elastic cuff, bringing an View real-time blood pressure measurement accurate and comfortable measurement experience. process and ECG recording process Easy to use. One click to measure blood pressure, detect ECG, AI-ECG Powered ECG analysis and automatic Wi-Fi sync to the free ViHealth App. Easy multi-user management Enjoy AI-ECG - powered ECG AI analysis. Identifying poten- (unlimited data storage, access, sharing of tial 16 abnormal ECG risks and generate a heart health report records and analysis reports) within minutes. Blood pressure trend management Easy to read and manage. Instant feedback on the OLED screen shows results even before opening the App, and the Data cloud backup App supports unlimited storage and multi-user management. More for the reliability. In order to avoid invalid results, the sphygmomanometer supports the wrong movement detection, cuff wearing inspection, and automatic three-time measurement functions.
Open the catalog to page 1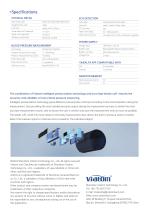 Specifications PHYSICAL DETAIL Size (main unit) Lead type Weight (main unit) Lead I, Lead II, Chest Lead Cuff size Small adult cuff (optional) Heart rate range Adult cuff (optional): Heart rate accuracy Wireless connectivity ±2 pulse /min or ±2%, whichever is greater POWER SUPPLY BLOOD PRESSURE MEASUREMENT Charge input Oscillometric Method Battery type Rechargeable lithium-polymer battery Pressure measurement accuracy Charge time Pulse rate range Pulse rate accuracy VIHEALTH APP COMPATIABLE WITH Clinical accuracy Technology Pressure measurement range MONITOR MEMORY Blood pressure records The...
Open the catalog to page 2
All Viatom by Lepu catalogs and technical brochures

Compare up to 10 products