Catalogs

>

So many choices. One standard.
Catalog excerpts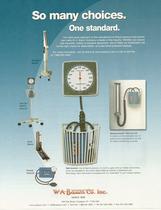 many choices. Our meticulous approach to the manufacture of blood pressure instruments has made W. A. Baum Company a leader in the industry. Whether you require wail-mounted, mobile or portable equipment, any of these six instruments will be the right choice for dependable, accurate blood pressure readings. For more information, visit us online at www.wabaum.com or call us toll-free Baumanometer® Wall Unit 33: to remain scientifically accurate. Wall Aneroid: Like all Baum aneroids, it is built to agree with our master instruments, which are traceable to the United States National Institute of Standards and Technology. Each instrument is equipped with our Calibrated" V-Lok' Inflation System. www.wabaum.com • info@wabaum.com • Toil-Free: 1-888-281-6061 • Tel: 631-226-3940 • Fax:631-226-3969
Open the catalog to page 1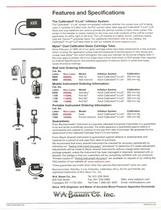 The Calibrated® V-Lok® Inflation System: The Calibrated*1 V-Lok® system immediately indicates whether the correct size cuff is being used. It consists of a latex bulb, Air-Flo'" control valve, latex bag and Calibrated® V-Lok® Cuff. Hook and loop fasteners are used to provide the optimal number of open-close cycles. The center of the bladder is clearly marked on :he inner and outer surfaces of the cuff for correct application on either right or left limb. The cuff material is a tightly woven, urethane coated, heat set, Dacron™ polyester fabric. For additional information refer to our...
Open the catalog to page 2
All W.A. Baum catalogs and technical brochures

Compare up to 10 products