Catalogs

>

Fetal2EMR Sell Sheet
Catalog excerpts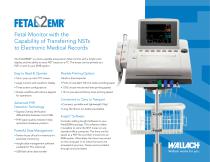 Fetal Monitor with the Capability of Transferring NSTs to Electronic Medical Records The Fetal2EMR™ is a twins-capable ante-partum fetal monitor with a bright color display and the ability to store NST traces on a PC. The traces can be printed as a PDF or sent to your EMR system. Easy to Read & Operate Flexible Printing Options • 5.6 in. pop-up color TFT screen • Built-in thermoprinter • Large numeric and waveform display • Prints on standard 150-mm-wide recording paper • Three screen configurations • 1/2/3 cm-per-minute real-time printing speed • imple workflow with silicone keypad S for operations • 15 mm-per-second history trace printing speed Advanced FHR Detection Technology • ignals Overlap Verification S differentiates between twins FHRs • HR signal quality indicator helps F optimizes transducer position Powerful Data Management • welve hours of built-in memory for T seamless monitoring • nsight data management software I available for PCs (optional) • USB flash drive data transfer Convenient to Carry or Transport • Compact, portable and lightweight (3 kg) • Long life lithium-ion battery (available) Insight™ Software Consider adding Insight Software to your Fetal2EMR package. This software makes it possible to store the NST traces on any standard office computer. The trace can be saved as a PDF file and then moved into an EMR system. Alternately, the trace may remain on the computer in its native format to be accessed at any time. Traces can be scrolled through and annotated.
Open the catalog to page 1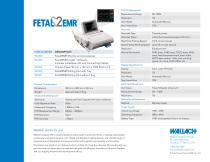 TOCO (Waterproof) Measurement Range Zero Mode Non-linear Error Recorder Recorder Type Fetal2EMR Insight™ Software; Includes Installation CD and Connecting Cables Thermo Paper 90 mm x 152 mm x 150P (Pack of 3) Fetal2EMR Rolling Cart with Tray Fetal2EMR Rolling Cart without Tray Record Information FHR1 trace, FHR2 trace, TOCO trace, AFM trace, fetal movement mark, event mark, AUTO-zero symbol, date, time, printing speed, ID, name, FHR2 Offset, etc. Stored Traces Printing Speed z-fold thermosensitive paper (150 mm) Real-Time Printing Speed Thermal printer Recorder Paper Display Specifications...
Open the catalog to page 2
All Wallach Surgical Devices catalogs and technical brochures

Archived catalogs

Compare up to 10 products