Catalogs

>

WAS 300 4-Stretcher Ambulance Mercedes-Benz Sprinter Panel Van Type B 3.88 T
Catalog excerpts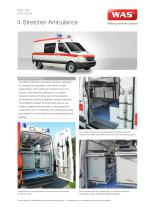 SHORT DESCRIPTION The WAS 4-stretcher ambulance has been designed for transporting casualties in the event of major catastrophes. The vehicle can transport up to four people, under medical supervision, to a nearby treatment centre for further care. All four patients can therefore be given emergency medical treatment. The stretcher brackets to the left and right can be folded up against the side walls to save space and create extra room. If necessary, the stretcher brackets are lowered in a user-friendly way to enable ergonomic loading. The oxygen cylinders are stowed behind the sliding side door making them easily accessible, and at the same time saving space. Spineboards, scoop stretchers or stretcher chairs are stored on the rear doors. While patients are being transported, the loading ramps are simply folded away, providing additional stability. The concept is transferable to other base vehicle types. The equipment is an example and can be customized.
Open the catalog to page 1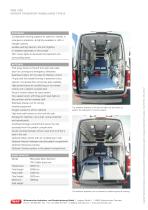 WAS | 300 PATIENT TRANSPORT AMBULANCE TYPE B EXTERIOR Configurable warning systems for optimum visibility in emergency situations, all lighting available in LED or halogen options Audible warning device in the front lightbar or installed separately in the bumper 360° scene lights to illuminate the treatment and surrounding areas INTERIOR Fold-away frame on the left and right side walls, each for carrying two emergency stretchers Seamless interior trim for ease of infection control Hi-grip and fully sealed flooring in assorted colour options. Composite floor structures also available control...
Open the catalog to page 2
All WAS - Wietmarscher Ambulanz- und Sonderfahrzeug catalogs and technical brochures
Compare up to 10 products