Catalogs

>

WAS 900 Disaster Relief Vehicle Command Vehicle Mercedes-Benz Sprinter Box Body 5 T
Catalog excerpts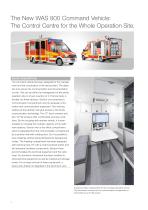 The New WAS 900 Command Vehicle: The Control Centre for the Whole Operation Site. SHORT DESCRIPTION The command vehicle has been designed for the manage ment and the coordination of the rescue team. The objective is to ensure the communication and documentation on-site. This can be either the management of the whole operation site or of just a section of it. The box body is divided into three sections. Section one comprises a communication compartment with all necessary infor mation and communication equipment. Two working s tations at the partition wall give access to the whole...
Open the catalog to page 2
Two working stations in the communication compartment give access to the complete communication technology. By the coupling with another vehicle, it is even possible to increase the modular capacity of the radio work stations. A rack system 19" to accommodate the communication and network technology. Exterior of the box body is made from polyester coated Hanging locker combination with 3 flaps in the partition wall of the office section Box body in low-weight aluminium sandwich construction Large office compartment with permanently installed working table and seat benches with integrated...
Open the catalog to page 3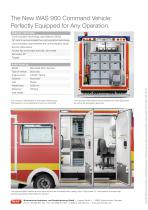 The New WAS 900 Command Vehicle: Perfectly Equipped for Any Operation. SPECIAL FEATURES Communication technology type Selectric IDECS 19" rack to accommodate the communication technology Communication door between the communication sector and the office sector Access flap at the right side wall, with inside flat screen 32" Tailgate BASE VEHICLE Mercedes-Benz Sprinter Engine power Wheel base total weight The concept is transferable to other base vehicle types. The equipment is an example and can be customized. The rear area of the vehicle accommodates the whole equipment as well as the...
Open the catalog to page 4
All WAS - Wietmarscher Ambulanz- und Sonderfahrzeug catalogs and technical brochures
Compare up to 10 products