Catalogs

>

Wasp

>

DELTA 40 70
Catalog excerpts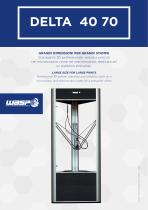 DELTA 40 70 GRANDI DIMENSIONI PER GRANDI STAMPE Stampante 3D professionale, veloce e precisa nel microscopico come nel macroscopico, dedicata ad un pubblico prosumer. LARGE SIZE FOR LARGE PRINTS Professional 3D printer, precision and reliability both on a Totally developed and made in Italy microscopic and macroscopic scale, for a prosumer client.
Open the catalog to page 1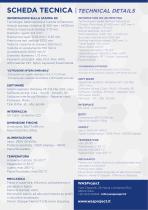 INFORMAZIONI SULLA STAMPA 3D Tecnologie: fabbricazione a fusione di filamento Area di stampa cilindrica: 0 400 mm - h670mm Altezza massima di stampa: 770 mm Diametro ugello: 0.4 mm* Risoluzione layer: 0.05 mm < 0.25 mm Precisione assi verticali 0.012 mm Velocita massima di stampa: 250 mm/s Velocita di spostamento: 150 mm/s Accelerazione: 6000 mm/s2 Diametro filamento: 1,75 mm Filamenti utilizzabili: ABS, PLA, Flex, HIPS, Altri materiali: PET, Nylon, Laywood, Experimental. •ESTRUSOREINTERCAMBIABILE -Estrusore con ugello diametro: 0.4, 0.7, 0.9 mm -Estrusore per materiali fluldodensi: LDM...
Open the catalog to page 2
All Wasp catalogs and technical brochures
Compare up to 10 products