Catalogs

>

WASSENBURG PAA / WASSENBURG Cleaner
Catalog excerpts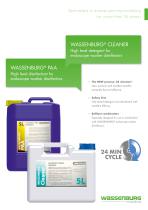 Specialists in endoscope reprocessing for more than 30 years! WASSENBURG® CLEANER High level detergent for endoscope washer disinfectors WASSENBURG® PAA High level disinfectant for endoscope washer disinfectors + The NEW process: 24 minutes!* New products with excellent benets: extremely fast and effective. + Safety rst Fully tested detergent and disinfectant with excellent efcacy. + Brilliant combination Especially designed for use in combination with WASSENBURG® endoscope washer disinfectors.
Open the catalog to page 1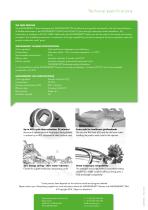 Technical specifications The WASSENBURG® Cleaner detergent and WASSENBURG® PAA disinfectant are specially developed for the high level disinfection of flexible endoscopes in the WASSENBURG® WD440 and WD440 PT (pass through) endoscope washer disinfectors. This combination is compliant to EN ISO 15883. Additionally, the WASSENBURG® Cleaner can also be used for the manual pre-cleaning procedure. The incredible process time, in combination with high compatibility and the low dosage of the active ingredient, makes this product combination really green'. WASSENBURG® CLEANER SPECIFICATIONS Active...
Open the catalog to page 2
All Wassenburg Medical catalogs and technical brochures

Archived catalogs

Compare up to 10 products