Catalogs

>

WASSENBURG® PROCESS MANAGER
Catalog excerpts
Specialists in endoscope reprocessing for more than 30 years! WASSENBURG® PROCESS MANAGER traceability and process monitoring + Endoscope reprocessing in detail Digital traceability and monitoring of the washing & disinfection and drying & conditioning processes in the WASSENBURG® systems. + Simple and smart Easy-to-use network application for small clinics and hospitals with multiple locations. + Professional management Endoscope equipment and operator statistics for analysis, auditing and calculation purposes. + Fast and accurate Continuous access to reliable traceability data. With the optional universal connection module, pre-set endoscope-related information from Process Manager can be transferred to third party applications (capable of receiving this data). Please contact your local Wassenburg supplier for further information.
Open the catalog to page 1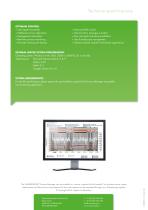 OPTIMUM CONTROL + Safe digital traceability + Advanced filter search + Webbased server application + General alarm messages e-mailed + Management information + Easy and quick look back possibilities + Real-time process monitoring + User & endoscope management + Accurate tracking and tracing + Optional upload module to third party applications GENERAL SERVER SYSTEM REQUIREMENTS Operating system: Windows server 2003, 2008 or 2008 R2 (32 or 64 bits) Web browser: Microsoft Internet Explorer 7, 8, 9 SYSTEM REQUIREMENTS For the full specifications, please request the pre-installation guide of the...
Open the catalog to page 2
All Wassenburg Medical catalogs and technical brochures

Archived catalogs

Compare up to 10 products