Catalogs

>

Well Lead DivisiO Bilumen Circuit
Catalog excerpts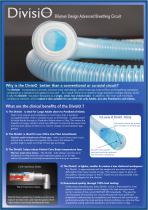 Bilumen Design Advanced Breathing Circuit DivisiQ Why is the DivisiQ better than a conventional or co-axial circuit? The DivisiO incorporates a smooth, bilumen inner wall design, which improves internal flow and breathing resistance compared to a standard corrugated circuit wall. As a result, there is no need for large diameter multiple tubing, which is why the DivisiO has been designed as a single, small, low volume tube. In addition, the inner wall minimises compliance (stretch), which makes it also suitable for use with not only Adults, but also Paediatrics and Infants. 1) The DivisiO is ideal for Large Adults down to Paediatric/Infants: Total circuit volume and compliance is much lower than a standard corrugated (either circle or coaxial) circuit, so the DivisiG is ideally suited for both Adults through to Paediatric/Infants down to 3kg. This means the hospital no longer needs to stock two different circuits and also saves time and improves safety as there is no need to change circuits between age groups. 2) The DivisiO is ideal for Low /Ultra Low Flow Anaesthesia: Quicker wash-in/wash-out of fresh gas: - with a much lower total circuit volume than a standard corrugated circle circuit, this allows for quicker wash in-wash out times of fresh gas exchange. 3) The DivisiO helps reduce Patient Core Body temperature loss: Warmer Inspiratory Gases: - The DivisiG tube design uses the warm exhaled air to help heat the cold inspiratory gases, so as to help reduce the patient's core body temperature loss during an operation. Cut awav of DivisiO Tubint Low circuit volume for quicker wash-in/wash-out of fresh gas Smooth inner septum reduces breathing resistance and minimises compliance Warmth from exhaled air transfers across inner septum to help heat cold inspired gases which helps reduce core body temperature loss 4) The DivisiO is lighter, smaller & creates a less cluttered workspace: The DivisiQ is approximately half the weight of a two tube circuit and 30% lighter than many Coaxial circuits. This means it easier to place on the patient, reduces torque on the ET Tube/Lma and also provides a less cluttered workspace for the clinician. 5) Guaranteed quality through 100% leak testing: Unlike many manufacturers, every DivisiQ circuit is leak tested for inner septum integrity and whole circuit integrity. Our leak test pass levels are far in excess of the current ISO5367:2014 standards. This give the user the peace of mind that our circuits will pass the most advanced anaesthetic machine tests for compliance and leaks and will provide high performance under the most extreme clinical conditions i.e. ultra low flow anaesthesia, being used with paediatric and infants down to 3kg.
Open the catalog to page 1
All the benefits of the Divisi©: Improves gas sampling response with low respiratory output patients More efficient workflow - no need to transfer Co2 Line for each new patient Greatly reduces the risk of pinching/occluding the gas sampling line Using the DivisiO with IGS offers significant advantages over a separate gas sampling line: When patients have low respiratory output (eg: after IV propofol at induction stage or when monitoring small children and infants), often it can be difficult to register a small tidal volume when sampling from a filter, as many sample ports are "off centre"...
Open the catalog to page 2
All Well Lead Medical catalogs and technical brochures

Compare up to 10 products