Catalogs

>

NTC Catalogue
Catalog excerpts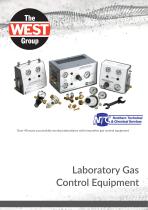 Northern Technical& Chemical irvic Over 40 years successfully serving laboratories with innovative gas control equipment
Open the catalog to page 1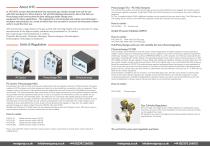 Pneuchange Trio - PC Mk3 Variants In 1973 NTC services introduced their first automatic gas cylinder change-over unit for use with CO2 incubators in Tissue Culture, IVF and Microbiology laboratories. Since that date our Pneuchange units have become the best selling gas bottle change-over equipment for these applications. This equipment is recommended and sold by most of Europe's incubator manufacturers as a result of which there are currently in excess of ten thousand of these units in round the clock use. NTC has become a major player in the gas control and hand ling market and now...
Open the catalog to page 2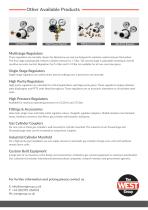 Other Available Products High Pressure Regulator Fittings & Accessories High Purity Regulator Multistage Regulators These regulators are normally chosen for laboratory use and are designed to minimise outlet pressure fluctuation. The first stage automatically reduces cylinder pressure to 1 7 Bar. The second stage is adjustable resulting in overall sensitive accurate control. Regulators for 0-4 Bar and 0-1 0 Bar are available for all non-corrosive gases. Single Stage Regulators Single-stage regulators are useful where precise settings over a period are not essential. High Purity Regulators...
Open the catalog to page 3
All The West Group Ltd catalogs and technical brochures

Compare up to 10 products