Catalogs

>

CHARLOTTE® Quick Staple Surg Technique ? SO369?1007
Catalog excerpts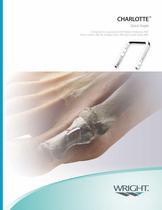 Quick Staple Designed in conjunction with Robert Anderson, MD; Bruce Cohen, MD; W. Hodges Davis, MD and Carroll Jones, MD.
Open the catalog to page 1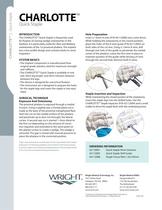 CHARLOTTE™ | Quick Staple CHARLOTTE™ Quick Staple INTRODUCTION Hole Preparation The CHARLOTTE™ Quick Staple is frequently used for fixation of closing wedge osteotomies in the forefoot. It is particularly useful for Akin and Moberg osteotomies of the 1st proximal phalanx. The implant has a low-profile design and contains barbs to resist migration. Insert a 1.6mm K-wire (P/N 44112008) into a wire driver. While holding the osteostomy in the closed position, place the holes of the K-wire guide (P/N 42112005) on both sides of the cut line. Using a 1.6mm K-wire, drill through one hole of the...
Open the catalog to page 2
All Wright Medical Technology catalogs and technical brochures

Compare up to 10 products