Catalogs

>

Comprehensive Osteogenic Solutions
Catalog excerpts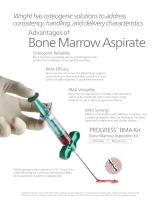 Wright has osteogenic solutions to address consistency, handling, and delivery characteristics. Advantages of Bone Marrow Aspirate Osteogenic Reliability Bone marrow is a reliable source of Osteogenic cells without the morbidity of autograft harvesting. Bone marrow alone has the potential to support bone healing as demonstrated in preclinical and clinical studies reported in published literature. Bone marrow aspiration is a widely used technique and may be combined with certain bone repair products to aid in the osteogenesis of bone. BMA in combination with DBM has a positive and possibly...
Open the catalog to page 2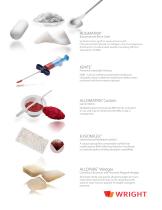 Biocomposite Bone Graft Synthetic bone graft in various forms with interconnected network of collagen and a homogenous distribution of carbonated apatite providing efficient absorption of BMA. Powermix Injectable Stimulus DBM / Calcium sulfate biocomposite providing an injectable cellular scaffold for stable bone defects when combined with bone marrow aspirate. ALLOMATRIX® Custom Carrier Matrix Moldable putty that preserves BMP activity until point of use, and may be combined with BMA to aid in osteogenesis. Demineralized Moldable Scaffold A unique sponge-like compressible scaffold that...
Open the catalog to page 3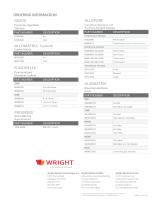 ORDERING INFORMATION IGNITE® Powermix Injectable Stimulus Cancellous, Bicortical, and Tricortical Allograft Wedges PART NUMBER PART NUMBER CANCELLOUS WEDGES ALLOMATRIX® Custom Carrier Matrix BICORTICAL WEDGES PART NUMBER TRICORTICAL WEDGES Demineralized Moldable Scaffold PART NUMBER Biocomposite Bone Graft PART NUMBER PART NUMBER Bone Marrow Aspiration Kit Wright Medical Technology, Inc. Wright Medical EMEA 1023 Cherry Road Atlas Arena, Australia Building Memphis, TN 38117 Hoogoorddreef 7 800 238 7117 1101 BA Amsterdam 901 867 9971 the Netherlands www.wmt.com 011 31 20 565 9060 Wright...
Open the catalog to page 4
All Wright Medical Technology catalogs and technical brochures

Compare up to 10 products