Catalogs

>

X-Ray Waste Container
Catalog excerpts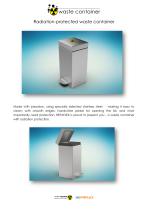 Radiation-protected waste container Made with precision, using specially selected stainless steel - making it easy to clean; with smooth edges; hands-free pedal for opening the lid; and most importantly, lead protection, REFAFLEX is proud to present you - a waste container with radiation protection.
Open the catalog to page 1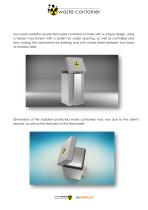 Our waste radiation-protected waste container is made with a unique design, using a hidden mechanism with a system for easier opening, as well as controlled and slow closing; the mechanism for leveling; and with a lead sheet between two layers of stainless steel. Dimensions of the radiation-protected waste containers may vary due to the client's request, as well as the thickness of the lead sheet.
Open the catalog to page 2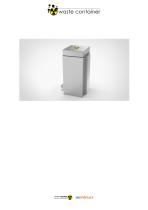 All X-RAY DOORS catalogs and technical brochures

Compare up to 10 products