Catalogs

>

Multi- modality Breast Phantom
Catalog excerpts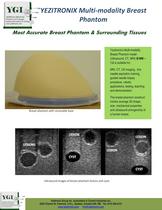 YEZITRONIX Multi-modality Breast Most Accurate Breast Phantom & Surrounding Tissues Breast phantom with removable base Yezitronix's Multi-modality Breast Phantom model needle aspiration training, guided needle biopsy procedure, robotic applications, testing, teaching The breast phantom construct mimics average 3D shape, size, mechanical properties Ultrasound images of breast phantom lesions and cysts Phantom Technologies Medical Simulation & Training Yezitronix Group Inc. Automation & Control Industries Inc. 6333 Chemin St. Francois, V.S.L., Quebec, Canada H4S1B6 Tel: (514) 856-0101 www.yezitronix.com info@vezitronix.com
Open the catalog to page 1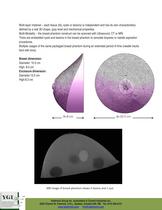 Multi-layer material - each tissue (fat, cysts or lesions) is independent and has its own characteristics defined by a real 3D shape, gray level and mechanical properties. Multi-Modality - the breast phantom construct can be scanned with Ultrasound, CT or MRI There are embedded cysts and lesions in the breast phantom to simulate biopsies or needle aspiration Multiple usages of the same packaged breast phantom during an extended period of time (needle tracks faint with time). Breast dimension: Enclosure dimension: YEZrfRONIX GROUPING Phantom Technologist Medical Simulation 8. Training MRI...
Open the catalog to page 2
MRI image of breast phantom shows 2 cysts Available models: a. Regular model with cysts and lesions is: B-RG-1.2 b. Multi-modality model (Ultrasound, CT, MRI) is: B-MM -1.2 c. With extra cysts and lesions is: B-EX -1.2 d. Coloured components (Cysts, lesions) for biopsy training is: B-CC -1.2 e. Custom design according to customer specifications is: B-CD -1.2 All components are based on Yezitronix's new unique MajesticMix material. Speed- 1540m/s Phantom Technologies Medical Simulation & Training Yezitronix Group Inc. Automation & Control Industries Inc. 6333 Chemin St. Francois, V.S.L.,...
Open the catalog to page 3
All Yezitronix catalogs and technical brochures

Compare up to 10 products