Catalogs

>

Zebra OEM Siemens Case Study
Catalog excerpts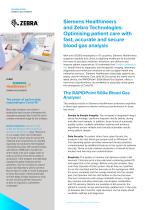 SUCCESS STORY SIEMENS HEALTHINEERS Siemens Healthineers and Zebra Technologies: Optimising patient care with fast, accurate and secure blood gas analysis SIEMENS HEALTHINEERS The power of partnership: responding to Covid-19 Blood gas analysers are critical in plotting the best course of treatment for respiratory diseases like Covid-19, which created a demand-surge for the analyser. Andrew Solomon, Director, Head of BA Site Strategic Procurement at Siemens Healthineers, says: "Everyone in our supply chain was challenged by events. It wasn't easy to secure the materials and components we needed, especially as lockdowns first hit global manufacturing hubs. We worked closely with Zebra's OEM team. It pulled out all the stops in its own supply chain to help us achieve a five-fold increase in production in the analyser and ultimately support the global response to the pandemic. Such an increase in volume would normally take a year to achieve. But we did it in under a month. It just goes to show the power of true partnership and the ability of large business to work as one and bring all their resources to bear to respond to unforeseen challenges." With over 50,000 employees in 70 countries, Siemens Healthineers supports hospitals and clinics in digitising healthcare to accelerate the move to precision medicine, transform care delivery and improve patient experiences. It's estimated that 5 million patients a day benefit from its diagnostic and therapeutic imaging, laboratory diagnostics and molecular medicine as well as digital health and enterprise services.¹ Siemens Healthineers blood gas systems are widely used in Intensive Care Units (ICUs) across the world and its latest device, the RAPIDPoint® 500e Blood Gas System, offers a new level of performance. Its availability is especially timely given the emergence of Covid-19. The RAPIDPoint 500e Blood Gas Analyser The analyser builds on Siemens Healthineers extensive expertise in blood gas systems to deliver enhanced performance in three key areas: • Sample to Sample Integrity: The company's integrated Integrisense Technology™ performs frequent checks before, during and after each sample. In addition, three levels of automatic quality control, multiple calibration routines and advance algorithms ensure reliable and clinically actionable results every patient sample. Data Security: To protect clinics from cyber threats, the analyser is the first blood gas system built on Windows® 10. The operating system provides advanced threat protection, complemented by additional features in the system to optimise security. These include malware protection, a firewall to block hackers and two-step user authentication. Simplicity: The system is intuitive and delivers results in 60 seconds. Clinicians print a barcode label containing patient ID and apply this to the syringe. Before using the analyser they scan their Operator ID (the system checks they are qualified to use the machine) and the barcode on the syringe too. With the scans complete and the syringe inserted into the sample port, the Operator hits the start button on the touchscreen. The test commences with assays available across a range of key markers including blood gas, electrolytes, metabolites and CO-oximetry. Results are available in 60 seconds, the patient's records can be electronically updated and, in the case of diseases like Covid-19, rapid decisions can be made about ventilator settings and diagnoses.
Open the catalog to page 1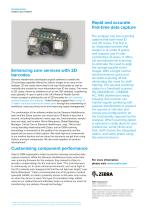 SUCCESS STORY SIEMENS HEALTHINEERS Rapid and accurate first-time data capture Enhancing care services with 2D barcodes Siemens Healthineers developed original software to enable the 2D scanning capability offered by Zebra's imager to be used in the analyser. 2D bar codes allow data to be read horizontally as well as vertically and contain far more information than 1D bar codes. The move to 2D codes, driven by initiatives such as the GS1 standard, is gathering pace globally. A case in point is the UK's National Health Service where a project is piloting the use of 2D barcodes to track...
Open the catalog to page 2
All Zebra Technologies Europe Ltd catalogs and technical brochures

Compare up to 10 products