Catalogs

>

CanidGait®
Catalog excerpts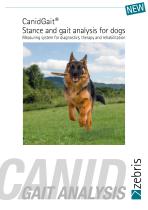 CanidGait ® Stance and gait analysis for dogs Measuring system for diagnostics, therapy and rehabilitation GAIT ANALYSIS
Open the catalog to page 1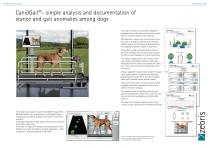 zebris Medical GmbH CanidGait ®– simple analysis and documentation of stance and gait anomalies among dogs The system consists of a treadmill or platform equipped with a calibrated pressure sensor matrix and one or several synchronised cameras. Gait disorders in dogs, such as those which may arise due to changes or injuries to the musculoskeletal system, are accurately analysed and permit targeted treatment in daily clinical Praxis. The system reveals functional deficits that are dif-ficult to detect with the naked eye, thus permitting an early diagnosis of incipient lameness. The analysis...
Open the catalog to page 2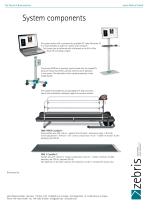 zebris Medical GmbH System components The system works with a commercially available PC under Windows 10. It is recommended to order the system with computer. The System can be delivered with a Notebook or an All-In-One Touch PC including a tripod. The camera SYNCam is precisely synchronised with the treadmill's pressure measuring sensors, several cameras can be operated in one system. The adjustable shutter speed guarantees a high image quality. The treadmill and platforms are equipped with high-precision, robust and individually calibrated, capacitive pressure sensors. FDM 2 CanidGait®...
Open the catalog to page 3
All Zebris Medical catalogs and technical brochures

Archived catalogs
Compare up to 10 products