Catalogs

>

Gender Solutions® Patello-Femoral Joint System
Catalog excerpts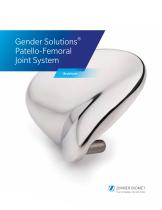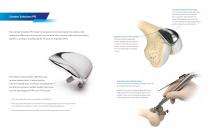 Increased Trochlear Groove Angle "This enhanced tracking angle has proven particularly useful in female patients, who account for approximately twothirds of PFA recipients and who often have an increased Q-angle, dysplasia and patellar subluxation preoperatively…"8 The Gender Solutions PFJ System is designed to provide implants to address the anatomical differences among men and women with a reproducible instrumentation platform, aiming to simplify patello-femoral artrhoplasty (PFA). PFA shares many benefits with PKA such as bone preservation,1 natural motion,1 shorter hospital stay,2 and...
Open the catalog to page 2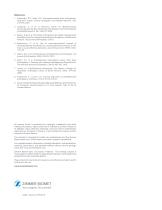 References 1. Deshmukh, R.V., Scott, R.D. Unicompartmental knee arthroplasty: long-term results. Clinical Orthopedics and Related Research. 392: 272-278, 2001. 2. Lombardi, A. et al. Is Recovery Faster for Mobile-bearing Unicompartmental than Total Knee Arthroplasty? Clinical Orthopedics and Related Research. 467:1450-57. 2009. 3. Brown, N.M. et al. Total Knee Arthroplasty Has Higher Postoperative Morbidity Than Uni-compartmental Knee Arthroplasty: A Multicenter Analysis. The Journal of Arthroplasty. (2012) 4. Robertsson, O. et al. Use of unicompartmental instead of tricompartmental...
Open the catalog to page 3
All Zimmer Biomet catalogs and technical brochures

Archived catalogs

Compare up to 10 products