Catalogs

>

Zimmer® NexGen® Precoat Pegged Tibial Plate
Catalog excerpts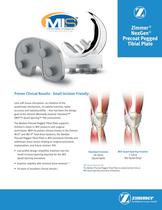 Zimmer ® NexGen® Precoat Pegged Tibial Plate Proven Clinical Results - Small Incision Friendly Less soft tissue disruption, no violation of the quadriceps mechanism, no patella eversion, same accuracy and reproducibility – that has been the design goal of the Zimmer Minimally Invasive Solutions™ (MIS™) Quad-Sparing™ TKA instruments. The NexGen Precoat Pegged Tibial Plate supports Zimmer's vision in MIS products and surgical techniques. With its proven clinical history in the Zimmer M/G® and MG II® Total Knee Systems, the NexGen Precoat Pegged Tibial Plate is MIS procedure friendly and addresses many issues relating to surgical procedure, implantation, and future revision TKA. • Low-profile design simplifies insertion into the small incision/opening required for the MIS Quad-Sparing procedure. • Superior stability with minimal bone removal.1,2 • 20 years of excellent clinical results. Standard Incision 20-30cm (Quad-Split) MIS Quad-Sparing Incision 7-10cm (No Quad-Snip) MIS Quad-Sparing TKA The NexGen Precoat Pegged Tibial Plate is easily inserted into an MIS Quad-Sparing procedure arthrotomy.
Open the catalog to page 1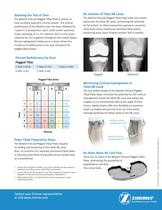 No Invasion of Tibial IM Canal Standing the Test of Time The NexGen Precoat Pegged Tibial Plate is proven to have excellent long-term clinical results.1 The clinical performance of the NexGen knee has been followed for 7 years in a prospective, open, multi-center outcomes study consisting of 11,257 patients and 13,250 cases collected by 243 surgeons throughout the United States. Annual radiographic follow-up to 5-years shows the incidence of radiolucency to be very infrequent for pegged tibial plates. The NexGen Precoat Pegged Tibial Plate does not invade/ pressurize the tibial IM canal,...
Open the catalog to page 2
All Zimmer Biomet catalogs and technical brochures

Archived catalogs

Compare up to 10 products