Catalogs

>

Corporate Brochure
Catalog excerpts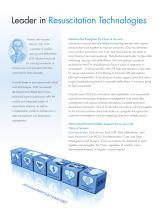 Leader in Resuscitation Technologies Named after founder Paul M. Zoll, M.D., a pioneer in cardiac pacing and defibrillation, ZOLL Medical was built on a strong foundation of Solutions that Strengthen the Chain of Survival Advances in resuscitation are linked to providing rescuers with superior products that work together to improve outcomes. ZOLL has delivered many product innovations and "firsts" that have become standards of care: External non-invasive pacing. Multi-function electrodes. Single-cable monitoring, pacing, and defibrillation. The only biphasic waveform reviewed by the FDA and...
Open the catalog to page 2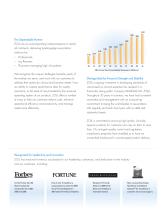 ZOLL has an ever-expanding market presence in nearly all continents, delivering leading-edge resuscitation Physicians managing high risk patients ZOLL Fiscal Year Consolidated Revenue (in Millions) We recognize the unique challenges faced by each of the markets we serve, and work with our customers to Distinguished by Financial Strength and Stability address their particular clinical and business needs. From ZOLL's ongoing investment in developing standards of our ability to capture performance data for quality care based on clinical expertise has resulted in a assurance, to the ease of use...
Open the catalog to page 3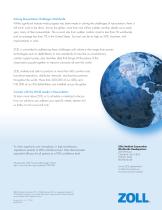 Solving Resuscitation Challenges Worldwide While significant industry-wide progress has been made in solving the challenges of resuscitation, there is still much work to be done. Across the globe, more than one million sudden cardiac deaths occur each year, many of them preventable. The survival rate from sudden cardiac arrest is less than 1 % worldwide and on average less than 7% in the United States. Survival can be as high as 50%, however, with ZOLL is committed to addressing these challenges with solutions that range from proven technologies such as defibrillators to new standards of...
Open the catalog to page 4
All ZOLL Medical Corporation catalogs and technical brochures

Archived catalogs

Compare up to 10 products