Catalogs

>

SurePower System
Catalog excerpts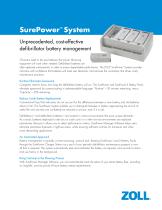 SurePower™ System Unprecedented, cost-effective defibrillator battery management Clinicians need to be sure batteries that power life-saving equipment will work when needed. Defibrillator batteries are often replaced unnecessarily in order to ensure dependable performance. The ZOLL® SurePower™ System provides clinicians with confidence that batteries will meet user demands, and removes the uncertainty that drives costly maintenance practices. Runtime Eliminates Guesswork Caregivers need to know how long the defibrillator battery will run. The SurePower and SurePower II Battery Packs eliminate guesswork by communicating in understandable language: "Runtime"—30 minutes remaining, versus "Capacity"—25% remaining. Reduce Costly Battery Replacements Conventional Pass/Fail indicators do not account for the differences between a new battery and old batteries about to fail. The SurePower System enables you to distinguish between a battery approaching the end of its useful life and one that can confidently be returned to service, even if it is old. Defibrillators—and defibrillator batteries—are located in various environments that pose unique demands. As a result, batteries deployed to devices on crash carts or in other low-use environments are replaced prematurely. Because it allows you to select performance criteria, SurePower Manager Software helps users eliminate premature disposals in light-use areas, while ensuring sufficient runtimes for transports and other more demanding applications. An Automated Approach Battery management is typically a time-consuming, manual task. Rotating SurePower I and II Battery Packs through the SurePower Charger Station as a part of your periodic defibrillator maintenance program is now all that is required. The system automatically tests and calibrates the battery as required, and records its status and use history in the background. Bring Certainty to the Planning Process With SurePower Manager Software, you can automatically track the status of your entire battery fleet, providing an insightful, concise picture of future battery needs/replacements.
Open the catalog to page 1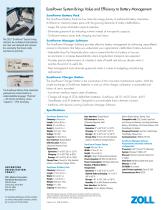 SurePower System Brings Value and Efficiency to Battery Management SurePower Battery Pack The SurePower Battery Pack has four times the energy density of traditional battery chemistries. Its lithium-ion chemistry keeps pace with the growing demands of today's defibrillators. • Eliminates guesswork by indicating runtime instead of non-specific capacity. The ZOLL® SurePower™ System brings clinicians the confidence that batteries will meet user demands and removes the uncertainty that drives costly maintenance practices. Longer life cycles and better capacity retention. On-board memory stores...
Open the catalog to page 2
All ZOLL Medical Corporation catalogs and technical brochures

Archived catalogs

Compare up to 10 products