Catalogs

>

ZOLL Online
Catalog excerpts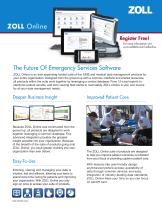 ZOLL Online Register Free! For more information visit www.zolldata.com/zollonline The Future Of Emergency Services Software ZOLL Online is an ever-expanding hosted suite of fire, EMS and medical data management products for your entire organization. Designed from the ground up with a common interface and shared resources, all products within the suite work together by leveraging a central database. From 12-Lead reports to electronic patient records, and from viewing fleet status to road safety. ZOLL Online is your one source for all your data management needs. Deeper Business Insight Because ZOLL Online was constructed from the ground up, all products are designed to work together leveraging a common database. This advanced integration provides the greatest insight possible into your organization. Because of the breadth of the suite of products going onto ZOLL Online, you have greater visibility into your organization than ever before. Easy-To-Use Entering, viewing and managing your data is intuitive, fast and efficient, allowing your team to spend more time caring for patients and improving your organization. With ZOLL Online you only sign-on once to access your suite of products. User friendly icons Improved Patient Care The ZOLL Online suite of products are designed to help you improve patient outcomes not distract from your focus of providing superior patient care. With features like user-friendly design; anytime/everywhere access; availability of data through common devices; and easy integration of industry-leading data standards, ZOLL Online frees your time so you can focus on patient care.
Open the catalog to page 1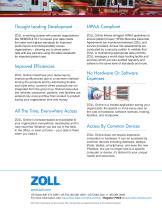 Thought Leading Development HIPAA Compliant ZOLL is working closely with premier organizations like NEMSIS & HL7 to ensure your data meets the latest and highest standards for improved performance and interoperability across organizations – allowing you to share select data with key partners using the latest standards for improved patient care. ZOLL Online follows stringent HIPAA guidelines to ensure patient privacy. HIPAA Business Associate Agreements are maintained between ZOLL and service providers. Annual risk assessments are conducted by a security auditor to validate that ZOLL is...
Open the catalog to page 2
All ZOLL Medical Corporation catalogs and technical brochures

Archived catalogs

Compare up to 10 products